We will live in a changed and mixed world,
where virtual meetings are common
and business trips and events are not necessarily required.
The Business Travel Competence Team
Mike Bassmann, Ralf Tellmann, Michael Zwickl
Travel Management
We're your first point of contact when it comes to your business mobility, i.e., travel management, for your company.
In addition to the planning and booking of business trips, travel management refers to the complete course of the travel booking and accounting process. Travel management is therefore the analysis, control and optimisation of processes and services required in connection with 1. Planning, 2. Booking, 3. Travel expense accounting and 4. Controlling of business trips. The processes are differentiated into pre-trip, on-trip and post-trip.
Also known as Corporate Travel Management, the aim of travel management is to ensure an effective and efficient business travel process. Purchasing must be involved at an early stage in order to achieve optimal purchasing success.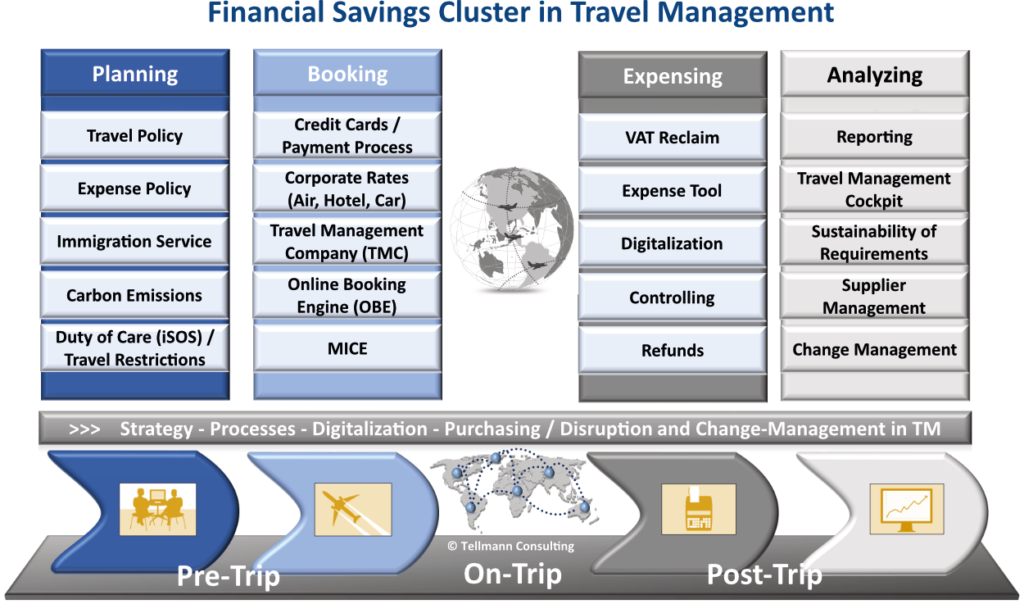 Due to the complexity of travel management, all national and international project and purchasing activities need to be set up and controlled centrally. Travel management activities are often also handled by the finance, purchasing or human resources departments.
Tellmann Consulting works out the right answers together with the client. Our services range from analysis and strategy development to implementation management. This results in immediately effective and sustainable solutions for our clients:
Strategies for the optimisation of travel management services
Global sourcing, tendering, negotiations and volume bundling
Purchasing efficiency and cost reductions of travel services (total cost of travel)
Commercial, functional and technical process optimisation
Organisation of structures and processes
End-to-end transformation and implementation
Optimisation of payment systems, such as credit cards
We provide these services nationally and internationally.
We identify strengths and weaknesses in the business travel industry.
Not only do we advise you on a purchasing-specific basis, but we also show you all the options for action and optimisation as part of an end-to-end strategy. In the implementation of travel management programmes, we work in line with the 'think global, act local' strategy.